Social Slots: A New Generation of Gambling for Fun with Friends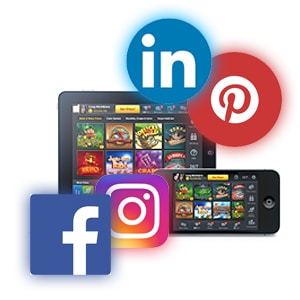 Despite social gaming sites being around for about a decade now, most gamblers in Canada and across the globe know very little about them. Casino players who gamble with real money consider social slots to be lesser than the regular slot machine games that are commonly found at online casinos.
This might be true though, especially if you are not playing to have fun or to discover new exciting games, but for a lucky chance at striking a life-changing win with just one spin. Let's face it; this is always way harder than it sounds. And as we speak, the current Canadian social casino platforms in 2019 are light years away from the ones that were there in the past. Read our exclusive look at the new generation of social slots and find out what you've been missing out.
A social slot is an online slot game that is free to 
play on your mobile device
 or on social media sites like Facebook. You can play social slots online via the browser on your computer, smartphone, or tablet or install the game's native on any of your devices. While social slots are still a new concept for many, they are quickly catching on and even surpassing some video slots aspects. If you are a regular user of social media sites like Facebook and Twitter, then you must have come across these games in the form of advertisements and even invite requests the course of your browsing.
The reason why social slots have been gaining popularity quite fast is that they come with some pretty impressive features that make them irresistible. Here are some of the social slots features that stand out:
How is Playing Social Slots Different from Real Casino Slot Machines?
Here is how the social slots experience compares to real casino slot machines:
More fun – While players will argue that real casino slot machines are played for fun, it is still a serious business that is played for real money. Social slots are played purely for fun, making it a more leisurely activity.

More engaging – Social gaming sites have a higher level of player engagement, especially since you can invite your fellow slot enthusiasts to compete in adrenaline filled tournaments.

High playing motivation – Since social slots are more fun and engaging, they encourage players to play more. They also have more in-game rewards and adventures, which give gamers more motivation to keep going.

More interaction – Social slot games tend to be visible when a player is doing other things in social networks such as Facebook thus being more interactive. You can easily share your achievements on your profile for bragging rights and dare your friends to challenge your top score!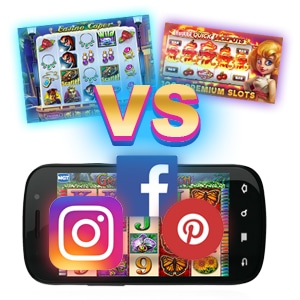 Top Social Slots Sites in Canada
Here are the top three social casinos in Canada where you can enjoy social slots via instant play or through downloading the apps for free:
1. Slotomania
Offering a plethora of different niches, this casino is one of the biggest names. You can play it online or download the app on your mobile devices.
Download Slotomania
2. Zynga
Being the most popular Facebook company, Zynga has managed to generate a lot of money into the social gambling industry.
Download Zynga Slots
Popular Social Media Platforms for Social Slots
Facebook is the most popular social media platform for social slots. Most top social slot games connected to Facebook attract hundreds of thousands to millions of players every month. This is not a surprise, especially now that Facebook has over 2 billion users worldwide.
Pros and Cons of Social Slots
Like any other online gaming activity, social slots have many advantages, but they also have their downsides. Here's a quick breakdown of its hits and misses:
Pros
They are free, and so, you don't have to spend your money

Allows you to improve on your gambling skills

You play against friends and engage in competitions

More fun since there's no pressure to win back your money

Are accessible on mobile for more relaxed playing on the move
Cons
No real money bets


No real money payouts